Where we only talk e-bikes!
Top Bikes List Videos
1-2 minutes per bike per video
Best: 220k+ Viewers
Average: 70k+ Viewers
Bike Review Videos
15-20 minutes per video
Best: 40k+ Viewers
Average: 10k+ Viewers
My goal with this channel is to build a community who invest in long-term engagement because they trust the information it provides.
Sam's Bikes is a dedicated electric Mountain Bike channel on YouTube publishing high quality videos every week. It holds a solid 3rd position on YouTube for Electric Bikes worldwide.
When I review a bike, I spend more time riding it than other YouTubers so I can talk in more detail about handling, geometry and the balance of motor and battery. With my passionate presentation style, I can give the viewer the feeling of riding the bike themselves.
My on-screen personality connects with serious long-term riders who want to know how a bike handles and also new riders who are looking to find the best value bike.
In addition to video reviews, I always take the time to give technical feedback and discuss marketing strategies with your team.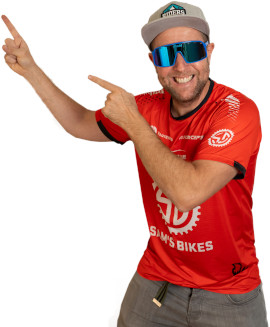 Demographics & Statistics
95% Male aged between 35-65
Europe and UK: 42%
USA & Canada: 26.4%
Australia & New Zealand: 8.4%